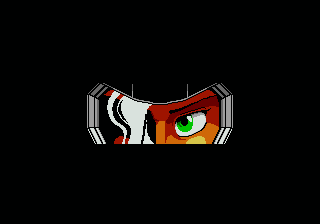 Here's your obligatory launch sequence!

Very similar to Super R-Type's - notice the docking bay view, and then the ship shooting out of the tunnel.
LAUNCH ALL ZIG!!!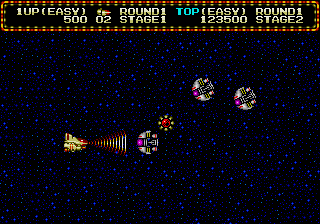 The tractor beam. When you capture a ship, it rotates on the front of your craft, and makes me laugh a little.....it really looks out of place.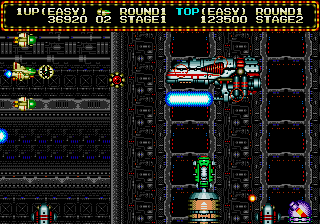 Level 1 baddies. I have a bomb attached to the front here. First levels of games are usually easy, in order to get the basics of gameplay and style.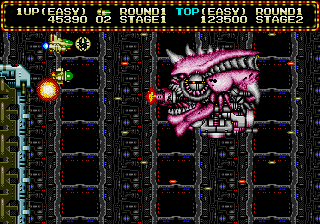 The level one miniboss must have very bad breath, or trick exploding gum.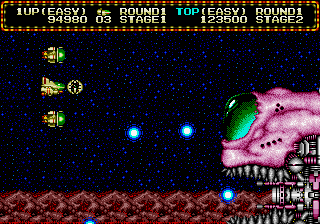 I wonder if bosses had to start in the mail room, then work up to apprentice, and finally be promoted to boss, or if they just start there. And what do they do when they're not fighting pesky ships?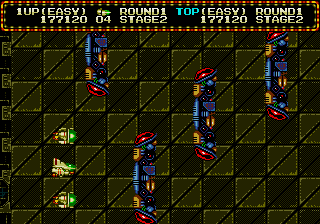 Easy to kill walls in level two. (are the walls alive in the first place Rog? - Malc)

[Gradius] The design of this boss reminds me of some Konami enemies. Destroy this one and fight a second one right behind it.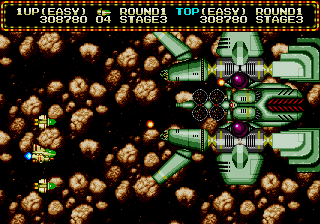 [Gradius] The miniboss of level 3 really reminds me of Gradius, with the four orbs in the center and an up and down pattern. Are there gonna be Moai heads soon?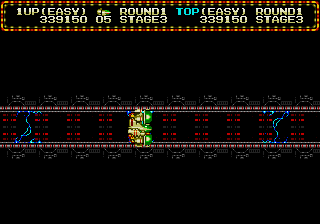 Look out, tight squeeze. Don't worry, the electricity doesn't hurt you, it must be low voltage.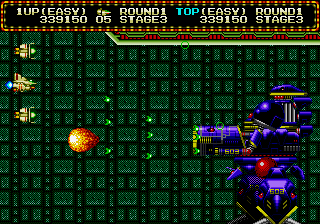 [Gate of Thunder] The level three boss escaped from GOT and broke into your copy of Zerowing.

Level four is the "battleship" level, and the section to the right breaks off and attacks you.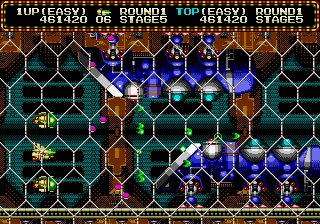 Try to take out these things as fast as you can: they shoot a lot and take up space.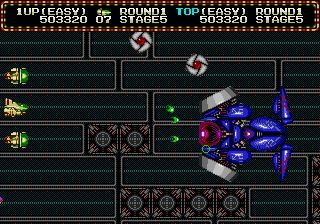 Stay OUTSIDE of the circles when fighting the miniboss of level five.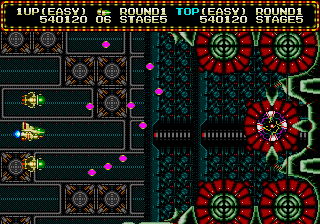 Level five boss. Take out the wheels and don't worry about the soon to be coming snake that appears.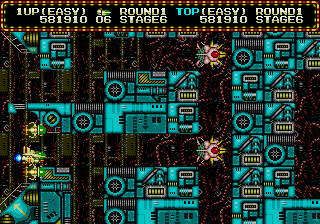 [R-Type, big time] These creatures eat away at sections of the level, making it safe for you to pass.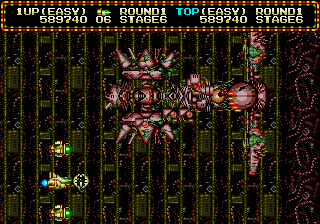 Level six miniboss. I apologize for the lack of humorous comments in this game. It must be boring reading all this commentary, and I try to liven it up some, but some games make it hard to do that, or maybe I'm just not in a very funny mood....wait until Parodius....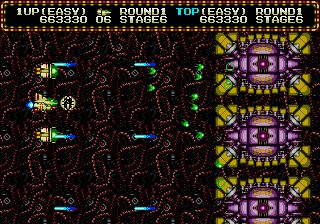 [Thunderforce 3] These huge blocks rearrange and try to squish you while shooting at the same time.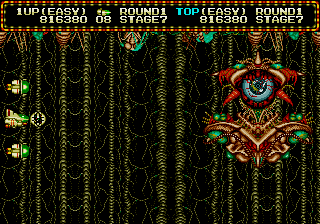 The level seven miniboss. I love games with lots of bosses. More bosses=better game.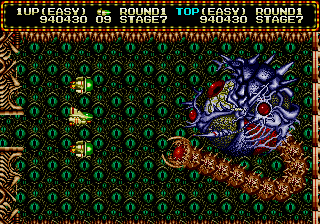 This guy stinks. It's hard to dodge, and I wind up in the top left corner, measuring closeness to the wall by pixels, since he's got a large reach.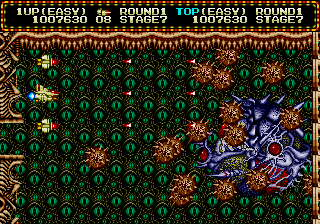 After you break up the arm, use the tractor beam to grab as many of the links as you can, because then you don't have to worry about them and can shoot them back.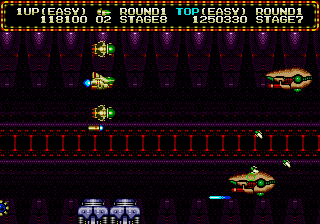 I think eight is the last level. Watch out for the homing missiles from these ships, they caught me off guard.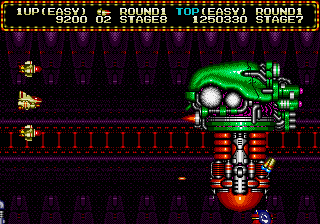 [Zerowing] Zerowing uses a boss from itself here, as this guy resembles the level one bosses. They must have run out of games to sample from.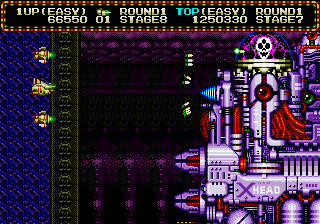 [Megaman] This looks like something straight from Megaman...The skull thing on the top reminds me of Dr. Wily's ship....needless to say, this guy is difficult. You NEED a speedup here, and the aforementioned skull darts after you and takes lots of hits to kill. I can't beat him yet, so end shots are coming. Hope the ending isn't taken from something with CONGRATULATIONS......