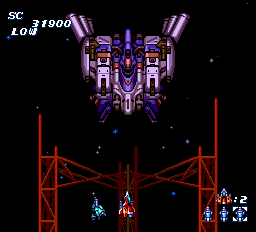 Level 1 Midboss:

Starting off nice and easy, the first boss sets the tone of the game by trying to splatter your brains all over your freshly washed and waxed spaceship.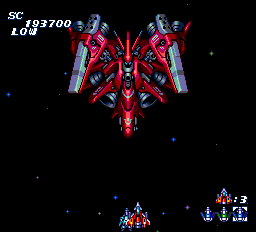 Getting a bit menacing here, with multiple lasers and a not very nice attitude.

The whole game reeks of large bosses.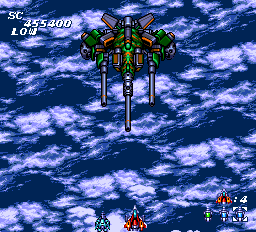 Flying over the waves, halfway through level 2. Hey Roger, what's going on here? If I remember right, your get blasted with laser pulses here.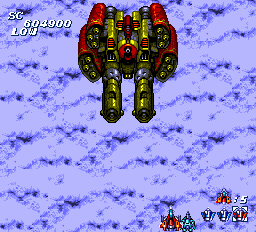 The weapons in Soldier Blade havent been ignored - you get several flavours, each of which are upgradeable, and deliver some serious firepower.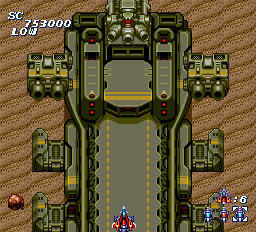 Level three now, this boss is about as far as I got, seems like old Rog is not too bad at this game (well, he did finish it with honours)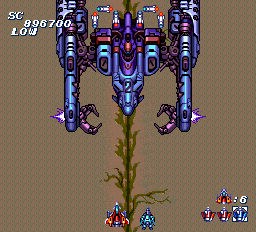 Ok, how the hell did they fit this game into a tiny hucard. You did know the PCE is an 8-bit machine eh? Well doesn't it beat the pants off some contemporary shooters on systems with quadruple the amount of bits?? nice grabby hands here, with homing missiles.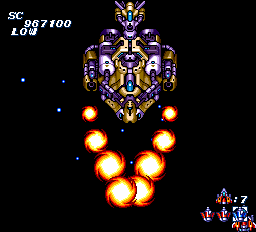 End of level four, and this boss tries to fry you with dual flamethrowers. This is about as far as I got (says malc) so it's over to Roger. malc out, 'Roger', Roger ;)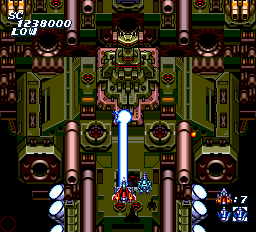 Level 5 mid: The engineer of this star destroyer looking ship should be fired: midway through strafing, it breaks into two and the front section flys off into space. Watch out for the large scud missiles that launch out from the holes where the front was, and blast all the yellow guns to down the cruiser.



Lovely full beam laser weapon for scary bits.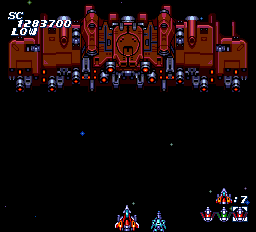 Level 5 boss: The pilot of this ship must have played Gradius...many fast paced lasers tracing a path which you have to navigate. And follow the advice that your parents gave you...when something that even looks like a crosshair centers on you, MOVE! Explosions are soon to follow.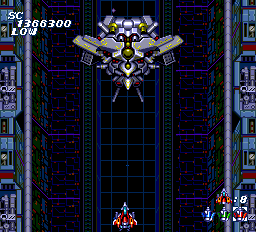 Level 6 mid1: This guy is kinda lame. Just circles and plops down where your billion dollar spaceship happens to be. Your typical 19.95, construct at home snap together ACME boss kit.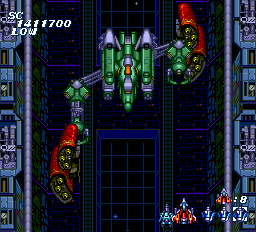 Level 6 mid2: This midboss is cool...he takes weapons from previous bosses you fought and places them on his torso. When you beat three of those, his hands grab the pipes on the wall and flings them at you. Go-go Gadget flamethrower! Since you beat them the first time, it's not too hard the second time.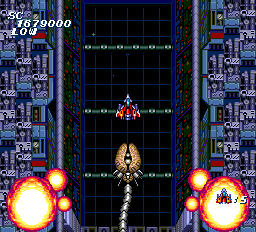 Level 6 escape: I don't get this. A large brain (not Einstein) chases you out, only to be slammed into a wall as you exit. Who is he, where did he come from? Who cares, it's cool.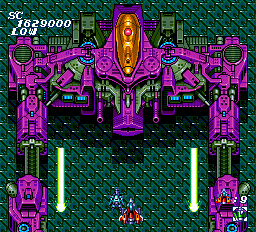 Level 6 big boss: This is the hardest boss. Destroy one piston/leg, only to have the screen change and teleport you to a space section. Destroy the other, and then fight the middle, with heat seeking lazers and that dart-like quick face in your face. Whew, I'm tired by now!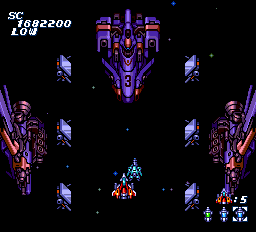 Level 7 boss1: Ever try to walk and chew gum at the same time? Try dodging bouncing lazers and the midsection's spread bullets. These are no mirrors to do your hair in.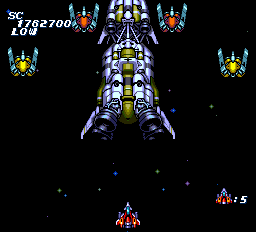 Level 7 boss2: Another poorly constructed ship. These aliens can't assemble things too well. After breaking up the shuttle, take out the pesky side things and finish the job.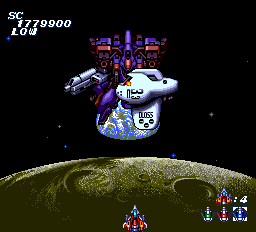 Level 7 final boss: FINALLY! Your power up shots don't hurt him until you destroy the shield. After that he has about two other attack patterns with a short break between them. Not really too hard for an end boss. That'll teach ya to mess with Earthlings!


Ending: What a surprise, like the guy in the Python movie, HE'S NOT DEAD YET! A flickering light in the mech hints that the job is not quite finished. Maybe hard mode yields a more complete ending (I'm at the level 6 boss-it really is hard....)

Ha Haaaahhh!! so he HASN'T finished it on hard yet!? weakling!!! - malc. Erm. I only got to level 5 meself on easy;)